There is a fact that says the more time you spend with someone the more you look like that person. This is also applies for dogs. If you are a dog lover one of the things you do is spend time with your rottweilers. Here we will show you 12 signs that show that you are about to become a rottweiler.
If there is something you hate the most is to wake up in the morning.
During your lazy days you tend to spend the whole day on the sofa. Being there it makes you day the best.
…However, when you go out nobody can shine more than you.
Well… that is what you try.
It doesn't matter if you have finished your gym routine. If you see a slice of pizza, you would do anything to get it. You could eat pizza every day at every time.
In spite you like pizza a lot, you are open minded. There are some days where you wish to eat a delicious ice cream.
You know that there are some days where you cannot avoid being sad and start thinking about the meaning of life.
But then you remember that in your mind there is just space to think about cakes and fun.
It is a fact that sometimes you get gassy during a Netflix marathon.
It takes you time to trust somebody but when you do it, you can be the best friend that person can have.
You tend to ruin your friends pictures.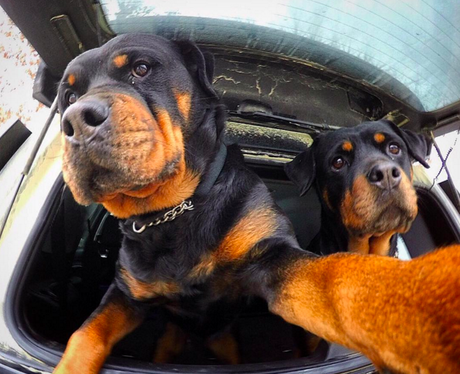 You do not give up until you achieve what you want.
But most importantly. Your unique personality is the best thing you can share with others. Share your happiness with the world. If you realize, rottweilers and you are very similar, who knows… maybe in your next life you will become one.