Somewhere in our lives we have wondered what love means. Many of us think that love is meeting someone, going out and having romantic dates and then getting married and being happy forever; But let me tell you, for a California woman, the word love goes further than a man's love.
Kath Miller is a young woman from the United States California who decided to get married and start a life of love with her husband. Despite that, over time things became uncomfortable between the couple since Kath was a young protector of animal rights. For Kath the synonym of happiness was taking care of the animals especially her 3 husky puppies. Kath loved huskies she had always had and lived with them since she was a child. She was given her first husky as a birthday present at age 12.
Many people do not understand the love that a dog can give you, in this case their 3 beloved huskies, the love and gratitude that these animals give to her and that she receives from them.
Kath Miller married Mike, whom she met at age of 20. She finished school and decided to leave home to start the love story with Mike. At the beginning everything was rosy but with time everything was changing.
Kath decided to move with Mike to a bigger place where she could have a large lot so that his 3 huskies (Dann, Boxi, Pett) could live freely. Her husband hesitated to accept but finally Kath convinced him.
The drop that spilled the glass was when Kath went to a dog shelter and adopted 2 more huskies, in total there would be 5. Kath invested most of her money in her dogs since she had no children, her beautiful huskies were her babies.
One day Mike overcame the limits of his patience and confronted Kath without thinking about the consequences. Mike felt that she didn't spend as much time with him anymore and that she only paid attention to her dogs to which she said «It's me or the dogs» since then Kath didn't hear from Mike.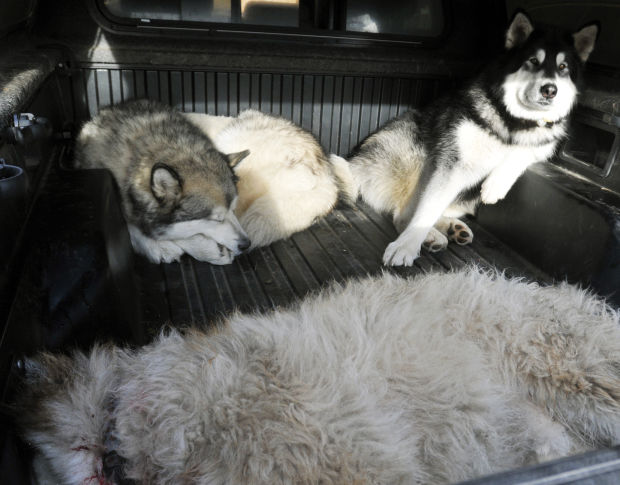 Kath has had a great love for her huskies since she was a child and will continue to do them. Someday she will find a dog lover who can share your hobbies and emotions with her. Meanwhile Kath continues living more than happy with her beautiful huskies in a country house.
Many times a dog can make you love so much more than what a human can make you feel. Why? Because a dog will always really love you. A human… you never know.